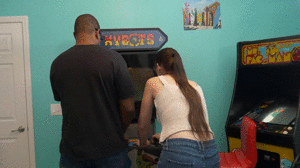 12:49 video
This amazing porn house we were at last year had a game room with working video games, including a third-person shooter called Xybots I had never seen before. Lord Black the Dom thought he could beat me at it and was willing to bet a steak dinner and some pussy eating on it. Little did he know I take bets like that VERY seriously! I made my way through the game quickly racking up points because I knew where I needed his mouth!
(Unfortunately there were ten minutes of footage missing, including me balancing between the two games while he made me cum on his face! No, I didn't sit on the consoles because I didn't want to break the vintage machines!)
The vid pics up with us both sweaty and naked and me cumming all over his cock on the tiny futon. My legs are already shaking from orgasm when he flips me from my back into doggy, then picks me up and bounces me on his cock as my cries ring from the almost bare walls. He puts me back down on the bed so he can pound my wet pussy and give me a thick creampie. I know he's looking forward to the next porn house so he can get his rematch!