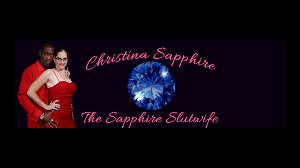 25:31 video
I had so much fun in Vegas that when I heard Danny Blaq was going to be in Florida, I told Cuckold Bob he was in for another treat. I lead him down to Danny's room where there was nothing between my mouth and Danny's hard black dick. Bob had the privilege of taking off my sexy blue high heels and worshiping my feet while I had the pleasure of a big black cock in my mouth. The more Cuck Bob sucked my toes, the better I sucked dick! Danny challenged Cuck Bob to try and get all of my toes in his mouth at once, and he made sure Cuck Bob didn't neglect my phat white ass, either. I reveled in the attention, especially when Danny started showing off his own oral skills. There is nothing like the sensation of having one's toes and clit sucked at the same time!
Danny slid his hot cock into my throbbing wet pussy as Cuck Bob held my legs back like a good little cuck. That wasn't enough for me, though, I demanded Cuck Bob make himself into my mattress so that Danny had the best angle of entry! Cuck Bob bore our full weight and thrusts as Danny rode me doggy and then missionary before depositing a huge creampie. I sat right up on Cuck Bob's face to make sure he slurped up every last drop as I sucked our juices off Danny's cock.
Every time with these two get better. I can't wait for next time!