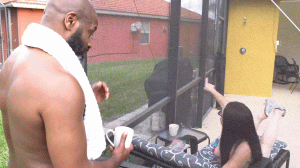 23:20 video
I'm reading a trashy romance by the pool one afternoon when my quiet neighbor, Mr. Nuttz, creeps by to borrow a cup of sugar. Little did he know how horny I get reading sex scenes! I tease him by making him watch as I strip out of my tiny bikini and try on another...and another! He won't even touch my beautiful breasts when they are dangling in front of his face--I practically have to put his hands on me myself.
I get what I want, though, and he's soon fucking me with the big black cock I just knew was lurking under his shorts. My orgasmic cries ring from the ceiling while he pounds my pussy, pushing me face-down into the couch. A cunt full of cum--exactly what I needed!
Watch the cum drip out in true full 4K - 2160p!