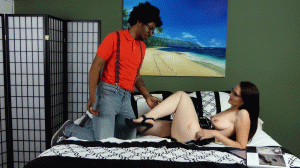 25:52 video
What do two science nerds do when she notices him paying more attention to her anatomy than to the astronomy book they are studying? Exactly what you think they'd do! I caught Dorky Darien taking photos of my cleavage instead of the planets we were supposed to be classifying, so I decided to give him a real lesson.
Shy at first, he was more than ready to get some 'hands-on-experience' after I inspected his telescope with my mouth and made sure it was in good working order. Then I flipped up my skirt and instructed him to explore my moon, which he dove into like a truly seasoned explorer! He examined my crevices with his tongue from front to back before digging deep with his big black tool.
The final discovery? A creamy puddle of cum dripping out of my puffy pink cunt. I can't wait for our next study session!