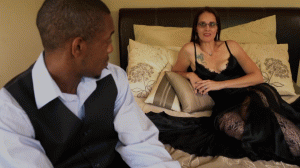 23:41 video
Cum see me in MY VERY FIRST VIDEO with Jonathan Jordan (the Pussy Bandit) as he first interviews and then thoroughly indulges my hunger for big black cock. We keep the talking to a minimum as he can't wait to get his hands on me--but first I have to get my mouth and hands on that long cock of his. I kneel at the end of the bed to swallow as much of his length as I can before climbing onto the bed next to him so he can see and feel my swinging natural tits.
I am already dripping wet in anticipation by the time I get on my back so he can slide his 11" cock into my tight hole. He slides in so deep that I am cumming in minutes and my cries ring from the ceiling. After my first orgasm, I climb on top so I can ride that big black dick like it was meant to be ridden--by a horny QOS hotwife! He temporarily satiates my appetite for cock by spraying cum in my pussy and on my ass after riding me doggy-style to simultaneous orgasms.
Don't leave early--you'll wish you could answer my last question with "me" at the end!