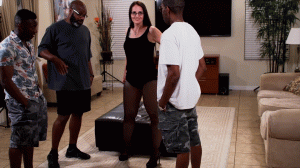 40:55 video
EXCLUSIVE SUPERFAN EDITION--FULL 40 MINUTES, NO TIME OUTS!
Mr. Nuttz thought the guys were coming over to watch the game but as usual I had other ideas, so I grumbled at him until he decided that indulging me was a much better way to spend an evening. The doorbell rang and in walked two men who are always nutting in the end zone, Jonathan Jordan and Edge, with a rookie fresh out of college, Rexx Royale. Mr. Nuttz filled them in on the change in plans while I revealed my favorite game-time uniform--fishnets and heels and little else! The four-man team was ready for action and lost no time in getting down my panties. Before you could call "HIKE!", I had my hands & mouth & pussy full of big black cock--exactly what I wanted!
Who needs a half-time show when the game is this exciting? My cunt is dripping cum from at least two creampies in the first half and my legs are trembling from cumming. My ass is red from Rexx's hands holding me in place as he thrusts his long cock into my tight, dripping pussy. My face is pressed against the ottoman, but you can still hear every shriek as he bottoms out over and over. How many times have the guys cum in me? I don't know, I've lost count! Due to injury, one teammate had to leave the field, but the remaining 3 are giving it their all--and they've got quite a lot! Email me and tell me what the score was after it's all over...including how many times you came!