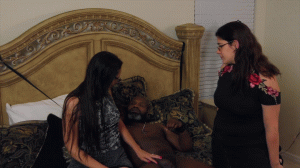 21:58 video
In ''Ruined Nuttz'', I left my boyfriend Mr. Nuttz strapped to the bed, throbbing and unfulfilled, desperate to cum after a cruel and unfinished handjob. Hours later, he's still tied down, watching my porn and lying in a puddle of his own pre-cum, when I stroll in with Vicki Verona to torment him some more!
I love listening to him beg while Vicki and I make out just out of his reach. She has to leave but that doesn't mean I let *him* go. No, I keep Mr. Nuttz right where he is, so I can sit on his face and see if he can guess how many loads of cum I've taken that night. I finally put my hands and mouth on his aching cock and balls, but I definitely make him work for his release! I eventually let him out of the straps, so he can eat my ass and then bury his thick cock in my dripping snatch to give me my fourth (or is it fifth?) creampie of the evening.
I'm such an Insatiable, Devious Woman! Be sure to watch part 1, ''Ruined Nuttz'', and ''Sapphire's Happy Ending'', which gives you an idea of what I was up to in between the two movies!