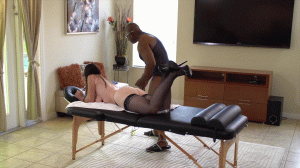 21:01 video
At the end of a hard day, at the end of a long week, who doesn't want a happy ending? I head to Edge, the man with the magical hands, who has always rubbed me the right way (especially when his friends The Bulls drop by to help!).
He helps me out of my sheer blouse and sedate silk skirt to expose the sexy black excuse for a thong that is perfectly framing my ass above lace thigh-highs. I'm so ready to have his hands on me that I don't even stop to take off my shoes! Edge's slick hands are soon sliding all over my shoulders... back... ass... and then the skimpy underwear is somewhere on the floor as he slides his meaty cock into my tight wet slit.
We give that table a hell of a workout as he makes sure he thoroughly works my insides as well as my outsides! This is the kind of massage where we BOTH get a happy ending.