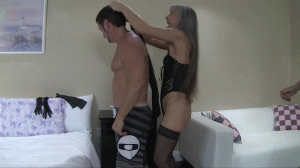 14:50 video
I'm bored at home one day when Leilani Lei comes in & tells me that our secretive new roommate left his computer on while he went to the pool. We immediately go through his porn files and browser history! Turns out our quiet new friend FetishMinds has quite the fetish for fishnets & heels, corsets & gloves, and clothed women doing unspeakable things to helpless, naked men.
What else are a pair of devious women supposed to do except bring that delicious fantasy to life? We surprise him with a pair of pantyhose on his head, wrestle him to the bed, tie and tape his body so he can't escape, and then proceed to tease and torment his undefended little cock with hitachi wands! We don't let him cum, though...orgasm denial was practically all he had bookmarked!
I'm already planning how to ruin his orgasm the next time we decide to play CWNM....