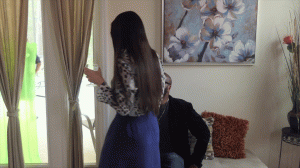 18:36 video
Ruined Nuttz: Mr. Nuttz thought he was being a good boyfriend by getting me tickets to the ballet--but he forgot I HATE the ballet! Little does he know that I picked up some accessories this afternoon and made other plans. When he tries to tell me it's time to go, I order him to go up to the bedroom, remove his clothing, & lay down. Once he's on his back, from behind the pillows, out come the RESTRAINTS!
Now this is a man who is not used to being told he can't have anything...but I keep my tits and ass just out of reach! He begs for me to release his hands, but I'm not done with him yet. I slowly torture his cock while he begs for pussy, mouth, a hand free, anything but this never-ending handjob. I'm a little softened by his desperation, so I give him a few chances to cum before I leave for the night...but he's so frustrated that he can't even cum!
And so, there he waits...tied to the bed as I leave to get into trouble. Be sure to come back when I do!